Emergency Dentistry – Portland, OR
Call Us for Immediate Care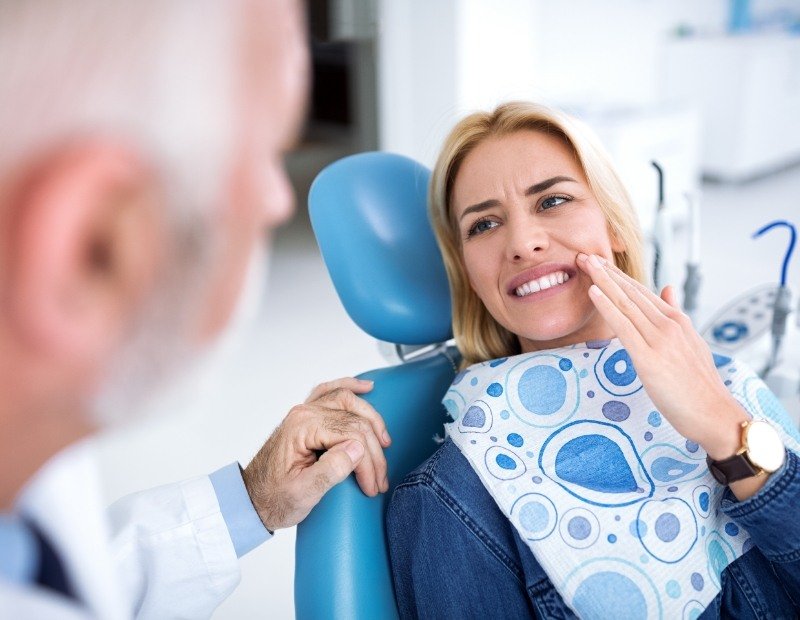 When you have a medical emergency, you call the emergency room. But if you have a dental emergency, you should call a dentist! Dr. Lee and the rest of our Portland dental team are trained to alleviate oral pain and repair all kinds of dental damage, and they will always make every effort to see you as soon as possible when you need urgent dental treatment. Save our number to your phone right now, so you can get in touch with us when it matters most for emergency dentistry in Portland, OR.
Why Choose Sup Lee Dental for Emergency Dentistry?
Same-Day Emergency Appointments Available
The Latest and Greatest Dental Technology
Comfortable Boutique-Style Dental Office
How We Treat Dental Emergencies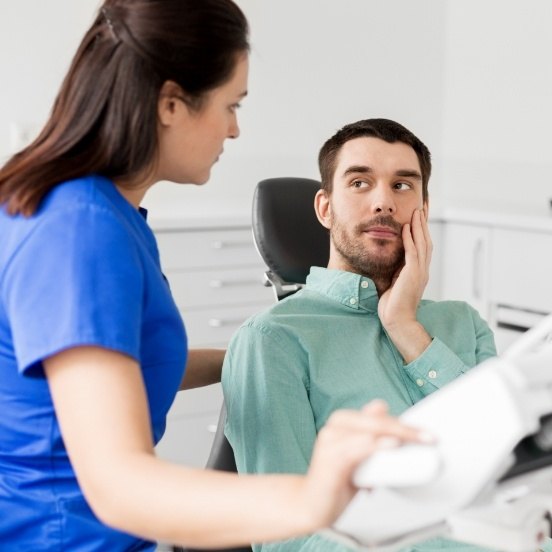 Our goal for emergency treatment is to quickly relieve your pain and restore your oral health. To do this, we follow these steps:
Same-Day Appointment: As soon as you call us describing the symptoms of a dental emergency, we'll schedule an appointment for you right away. We can see you on the same day as your call, and we'll give you first-aid tips over the phone based on your situation.
Emergency Exam: Once you get to our dental office, we'll take X-rays and perform a full examination of your mouth to figure out what exactly the problem is. We'll also make it a priority to stop your immediate pain.
Review Findings: We'll explain the results of our examination and suggest a treatment plan to address the issues we found. We'll always explain the price and length of the treatments involved before you have to make any commitments.
Get the Care You Need: As soon as you agree to a treatment plan, we'll get right to work treating your smile with personalized restorations, root canal therapy, or other treatments.
The Most Common Dental Emergencies
Dental emergencies come in many different forms, so it can sometimes be hard to know whether a specific situation counts as an emergency or not. Below are some of the most common reasons to schedule an emergency appointment; call us immediately if you start showing these symptoms so that we can determine whether or not you need immediate attention.
Toothaches
Chipped
Tooth
Cracked
Tooth
Sensitivity to
Hot & Cold
Knocked-Out
Tooth
Lost Filling
or Crown
Broken
Denture
Loose
Tooth
Gums, Lips or
Tongue Injury
Jaw Pain or
Clenching
Something Stuck
Between Teeth
Understanding the Cost of Dental Emergencies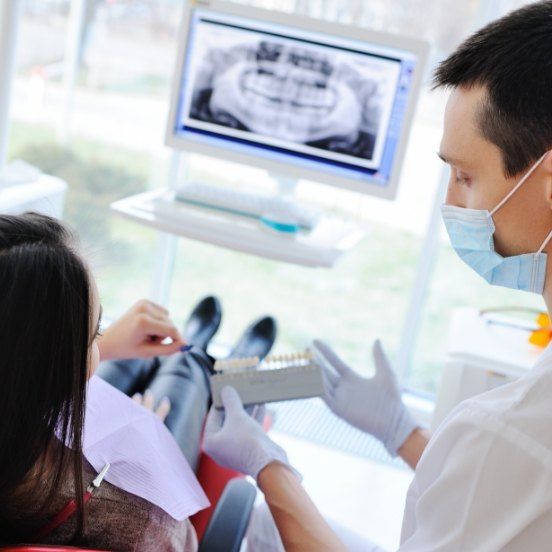 We won't be able to give you an estimate of the cost of emergency care when you first call our dental office because we need to examine your mouth first and figure out what treatments are necessary before we can estimate a price. Don't worry; you'll always know how much treatment costs before it begins, and we'll help you explore options for making it more affordable. If you want to save money on emergency care, then call our dental office as soon as you notice something wrong with your mouth; putting off treatment for too long could make the problem even more severe and thus require more costly care.
Keys to Preventing Dental Emergencies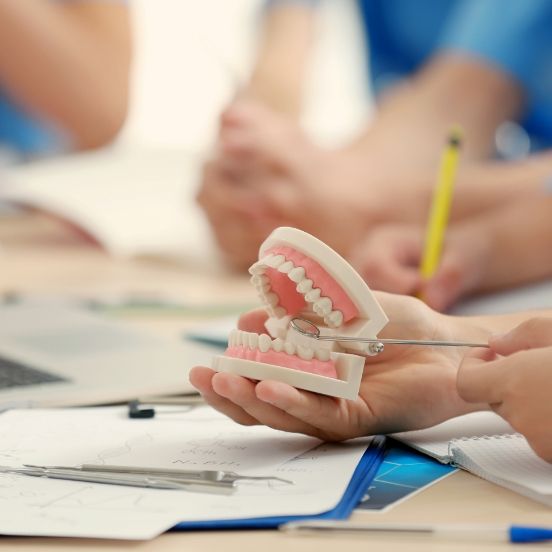 Preventing an emergency is always preferable to dealing with it after the fact. We highly recommend visiting our dental office every six months for checkups and cleanings so that we can spot and stop problems early. You can also protect your smile on your own by brushing and flossing every day, giving up nail-biting and other tooth-damaging habits, eating less sugar, wearing a mouthguard when playing sports, and using tools to open packaging instead of your teeth.
TMJ Therapy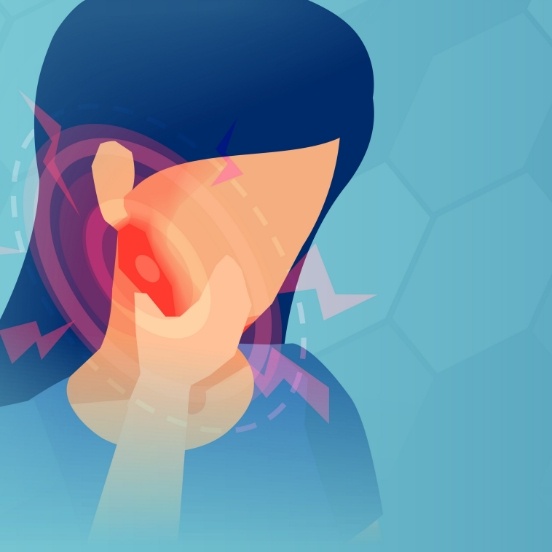 When there's a problem with your TMJ (the temporomandibular joint that lets you move your jaw), it can cause chronic pain or tenderness in your jaw. Ignoring TMJ pain lets it grow worse and worse, and it can eventually lead to serious issues like lockjaw, which makes it difficult to open or close your mouth. Our team can diagnose TMJ disorders and offer different methods of treatment based on what the nature of the problem is. For example, we might give you an oral appliance to protect your mouth from nighttime grinding that can put stress on the TMJ.
Wisdom Tooth Extractions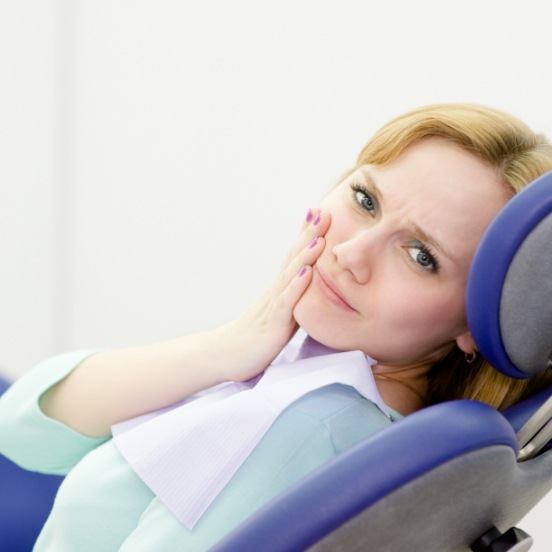 If you're between the ages of 17 and 25, chronic pain near the back of the mouth could mean that you have wisdom teeth that are failing to erupt properly. We can remove problematic wisdom teeth before they cause any permanent damage to the mouth. Anyone in your family who is due to receive their wisdom teeth should visit our dental office; we can take X-rays to see what state the wisdom teeth are currently in and start planning for an extraction ahead of time if it doesn't look like they'll be able to erupt safely.
Learn More About Wisdom Teeth Extractions
Dental Emergency FAQs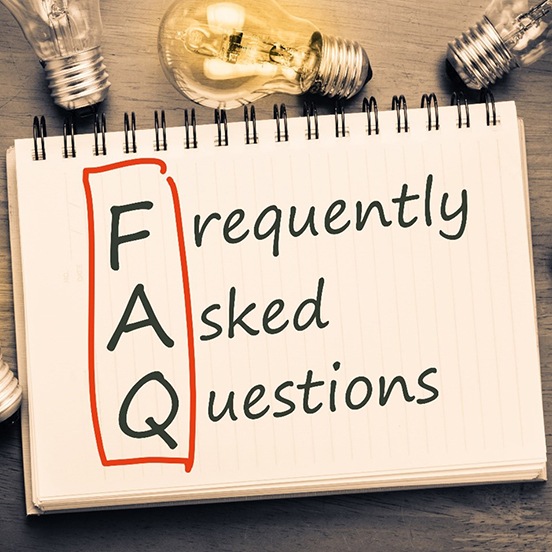 A dental emergency in Portland can happen when you least expect it. That's why it's important to read up now about how to respond to dental damage and infections and how your dentist can help. Below are answers to some of the most common questions about emergency dentistry. Take a moment to review these FAQs and don't hesitate to contact our office if you have further questions. Remember, Dr. Lee and the rest of our team will always do our best to see you as soon as possible whenever you may need urgent dental care.
Should Knocked-Out Teeth Be Placed in Water?
If your tooth is knocked out by accident, you can rinse it off with water and try to carefully place it back in your open socket. If that doesn't work, place the tooth in a secure container but do not add water. Water can damage the root surface cells of teeth, reducing the chances of it being able to be placed into the socket. Instead, pour milk or saline solution into the container holding your tooth and immediately head to an emergency dentist in Portland.
How Should I Sleep with Tooth Pain?
One of the best things you can do when dealing with a toothache at night is keep your head elevated. Try stacking two or three pillows and resting your head on top of them. This will help prevent blood from rushing to your head and intensifying your toothache. You can also take over-the-counter medication as needed or hold a cold compress over the affected area to help dull your discomfort. In addition, you can avoid aggravating your toothache by staying away from acidic, cold, or hard foods right before bed.
Can the Emergency Room Remove a Tooth?
No. Only licensed dentists can perform tooth extractions, making the procedure illegal for someone without the required training and education, including emergency room physicians. If you go to the local emergency room with a toothache, the best they can likely do is provide antibiotics and pain medication. While this may temporarily alleviate your pain, medication won't address the underlying problem causing your toothache. Furthermore, just because you are experiencing severe tooth pain does not necessarily mean you need to have your tooth removed. An experienced emergency dentist in Portland like Dr. Lee may be able to save your tooth and alleviate your pain through root canal therapy. The only way to know for sure is to visit a dentist – not the emergency room.
Do Chipped Teeth Heal?
You may be surprised to learn this, but enamel is actually the hardest substance in the human body, according to the American Dental Association. Even so, teeth can still sometimes become chipped, especially if you use your teeth as tools to open packaging. Enamel does not have the ability to heal on its own, which means that chipped teeth cannot grow back to their original shape. At best, teeth can remineralize, but this is not considered to be the tooth "growing back." Only restorative or cosmetic dentistry can change the shape and condition of a chipped tooth.